Get in touch
FOR SUPPORT ON ORDERING, SIZING OR CUSTOM ORDERS. 
Do not use the contact form! 
With whatsapp we can give better and faster support.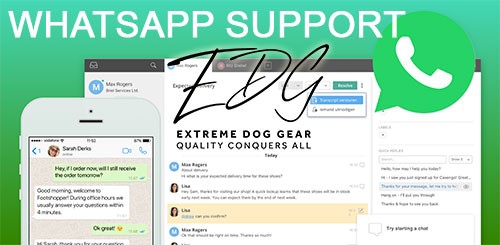 +31 6 83067683


WHATSAPP PRODUCT AND ORDERING SUPPORT IS ONLINE EACH WORKING DAY MO - FR : 10.00 - 15.00 CEST
SCAN OR CLICK THE QR CODE. 
The Local store in Amerongen
Opening Hours: Monday – Friday: 10.00 - 15.00
Saturdays and Holidays see the CALENDAR or check our GOOGLE page.
Sundays: Closed
Contact us via the contact form on any business or financial questions or possible partnerships. We answer your emails within one business day.
Whatsapp Support
For the webshop use the button, scan the QR code.
Monday to Friday : 10.00 - 15.00 CEST
Location
Extreme Dog Gear,
Industrieweg Zuid 22-B,
Amerongen, Utrecht, 3958VX,
Netherlands
Phone
Phone: +31 (0)343 753000 - Only for the local store!
Chamber of commerce
30115952